Катерина Гетманенко. Компаративний аналіз іміджу України у мас-медіа Німеччини та Туреччини, 2014 р.
Kateryna Hetmanenko. The comparative analysis of the Ukraine`s image in mass media of Germany and Turkey. 2014
Анотація
Катерина Гетманенко. Компаративний аналіз іміджу України у мас-медіа Німеччини та Туреччини, 2014 р.
Abstract. Events that shock the whole world including not only Ukrainian but also foreign audiences. Revolution of Dignity, annexation of the Ukrainian peninsula of the Crimea, the beginning of the Russian occupation of Donetsk and Luhansk regions, signing of economic and political parts of the Association Agreement between Ukraine and the EU, "hybrid" aggression by the Russian Federation. 2014 loudly represented Ukraine to the whole world, demonstrating terrible events in foreign mass media. The country became the subject of loud discussions in the columns of international newspapers, which significantly influenced the perception of its foreign image as a whole. In the chosen year, it is possible to trace the trends of transformation of Ukraine's image in foreign media in the most expedient way. To understand it clearly and make the qualitative comparison, it's appropriate to consider the representation of Ukraine in the media of Germany and Turkey. The model of European democratic views and the representative of Islamic conservative values ​​demonstrate completely different visions of our country, but at the same time they have many common features of the image of Ukraine. The subject of the study should be considered the mass media spaces of Germany and Turkey. The methods were general scientific and special scientific methods. General scientific ones include synthesis, analysis, comparison, induction and deduction. The special scientific methods consist of content analysis and comparative analysis. The choice of methods is justified by high-quality processing and analysis of news materials. German media (newspapers «Die Zeit», «Süddeutsche Zeitung», «Der Bild», «Frankfurter Allgemeine Zeitung», «Der Tagesspiegel», «Der Spiegel) and Turkish media (newspapers «Hürriyet», «Sabah», «Sözcü», «Doğruhaber», «Dünya») were used as the sources of information. The results of the study led to the conclusion that this comparative analysis is the first scientific work of its kind to compare the vision of Ukraine's image in the media of Germany and Turkey with the use and processing of news materials from foreign newspapers.
 Keywords: mass media space, image of Ukraine, comparative analysis, congruence, mass media, Germany, Turkey.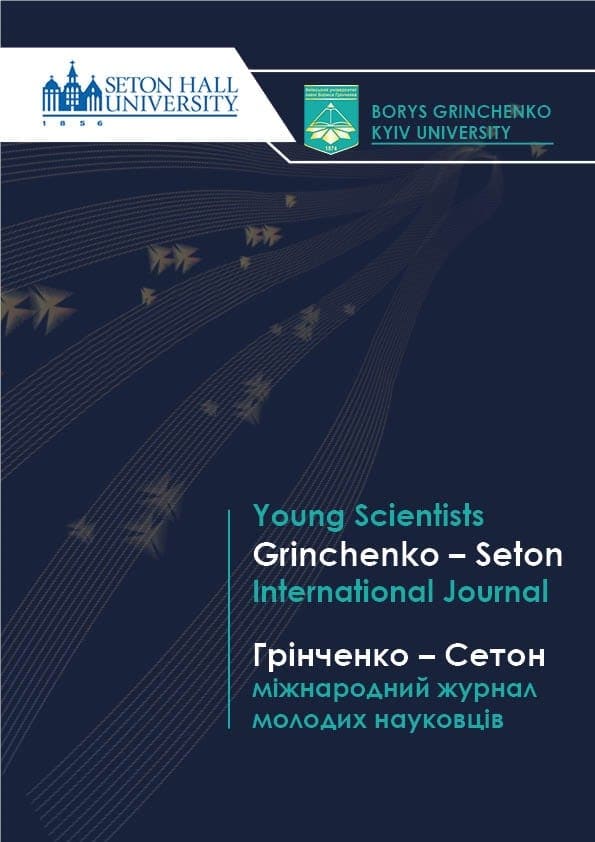 Downloads
Як цитувати
Гетманенко, К. . (2022). Катерина Гетманенко. Компаративний аналіз іміджу України у мас-медіа Німеччини та Туреччини, 2014 р. : Kateryna Hetmanenko. The comparative analysis of the Ukraine`s image in mass media of Germany and Turkey. 2014. Грінченко – Сетон міжнародний журнал молодих науковців, 3(3), 97–105. вилучено із https://ysgsij.kubg.edu.ua/index.php/journal/article/view/102
Розділ
Розділ 2. Студії молодих дослідників Київського університету Бориса Грінченка